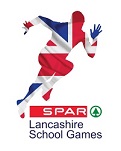 Congratulations to all our pupils in Y7, Y8, Y9, Y10 and Y11 that took part in the Spar 'Lancashire School Games' Disability Swimming Gala on 2 April 2019.
27 pupils took part in the annual Lancashire Disability School Swimming Gala today and we brought home a good wealth of medals!
Astley Park won 1x Gold
4x Silver
8x Bronze
All pupils were a credit to school and were good sports people!
This is the largest team we have taken and it paid off with the support and social skills development across all Key stage 3 and 4.
Well Done Team Astley Park!
Spar ' Lancashire School Games' Disability Swimming Gala - 02.04.2019
Lancashire Disability Swimming Gala
Tags: 7R Class 7G Class 8R Class 8G Class 9R Class 9G Class 10R Class 10G Class 11R Class 11G Class 2018-19