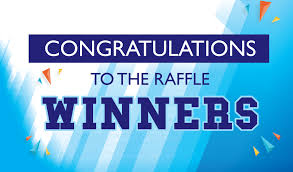 Our Christmas raffle was drawn in school this afternoon.
Please see the list of raffle winners below. The majority of the tickets had names on, however there are a few tickets sold at the Christmas bingo which didn't. If you have a winning ticket please contact school.
Smaller items can be sent home with pupils tomorrow, however any larger items eg: hampers will need to be collected before 4pm tomorrow.
Congratulations to all our winners and thank you once again for your continuous support with all of our fundraising events; by purchasing tickets and sending in items on non-uniform days. Thank you also to the local business who generously donated prizes to help us raise funds.
Our raffle raised over £500 and performance tickets/ refreshments a further £350 which is amazing.
Tags: 2019-20